SI Ballistic M Frame 2.0 Strike Laser Array
(NSN 4240-01-555-5324)
Grey Frame with Laser, Grey and Clear Lenses with Case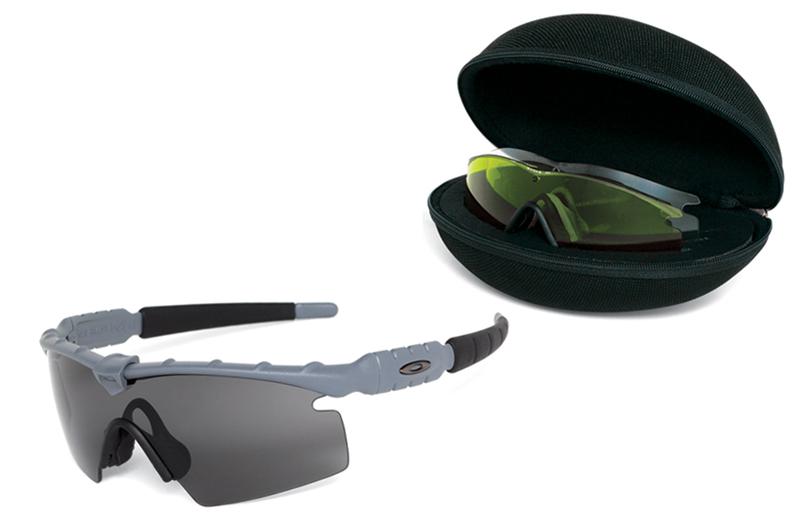 Description
The Oakley SI Ballistic M Frame 2.0 Laser Array surpasses ANSI Z87.1 Industrial Standards for high-mass and high-velocity impact protection. The M Frame 2.0 additionally meets MIL SPEC MIL-PRF 31013. All lenses are made of pure Plutonite®, a proprietary material that offers the highest level of optical clarity available in eyewear. It also features a clip that holds the lens and frame together providing more secure support.
Features
Fully compliant with all ANSI Z87.1-2003 protection requirements
Fully compliant with MIL-PRF-31013 Vo Ballistics
Plutonite lens material blocks 100% of all UVA, UVB, UVC and harmful blue light
Full compatibility with PASGT, CVC, and MICH helmets
Full compatibility with helmet-mounted night vision devices
Distrortion-free optics via patented Polaric Ellipsoid lens geometry that minimizes refraction
Extended upper/lower/lateral viewing fields via Polaric Ellipsoid geometry
Maximized comfort of ultra-lightweight design (1.05oz total weight)
Secure fit, even under wet conditions via hydrophilic Unobtanium at all contact points
Convenience of easy lens replacement with no need for tools
Kit Contents
SI Ballistic M-Frame 2.0® spectacle with Clear Lens and Unobtamium® elastomeric nosepiece
Laser protective lens
Neutral Grey, bright light protective lens
Removable/adjustable retention strap
Crush resistant carrying case
Micro-fiber cloth bag suitable for lens cleaning and supplemental storage within carry case
Use and care instructions printed on tear-proof, water resistant substrate
Light Transmittance
Clear Strike: 90% visible light transmittance suitable for use in low light to no light conditions
Laser Strike: Optical Density not less than 4.0 - wavelengths of 820nm to 850nm and the wavelength of 1064nm*.
Visible light transmittance: 54% suitable for medium to low light conditions
Grey Strike: 16% light transmittance, meets the neutrality and chromaticity requirements. Suitable for bright conditions
Information on other Oakley products
Compare Oakley Tactical Glasses to ...
WILEY X® NERVE GOGGLES

WILEY X® CLIMATE CONTROL™ BLINK GLASSES WITH LIGHT-ADJUSTING LENSES

Compact low profile ballistic goggle provides superior eye protection for the critical situations that face Military and Law Enforcement. Frame has 90º wrap-back, eliminating tunnel vision. Fits a wide range of sizes and is the first goggle specifically developed to fit narrow faces for men and women.
Shatterproof Selenite™ lenses change from clear to dark grey in seconds, depending on surrounding light. Wiley X® built these Climate Control™ glasses to protect eyes from irritating elements like smoke, sand andwind. Removable Facial Cavity™ foam seal prevents precipitation and debris from reaching the eyes, while ventilation holes in the frame allow continuous fresh air flow. Metallic black frame.
Specs:
• Ultra low profile
• Made to fit a wide range of sizes, including narrow faces
• NVG-compatible
• Frame has 90º wrap-back, eliminating tunnel vision
• Tactical strap with Tri-Glide™ System for adjusting length
• Quick-release key connections
• Frame made of heat-resistant material
• Wiley X Spheric™ Lens Technology for unmatched field of vision
• 8 Base 2.5mm Selenite™ polycarbonate lens
• T-Shell™ and Foil™ lens coatings for anti-scratch and anti-fog protection
• Two interchangeable lenses: Clear and Smoke
• Lenses provide 100% UVA/UVB protection
• Meets ANSI High Velocity Impact Standard Z87.1-2003
• Meets Military VO Ballistic Impact Standard MIL-PRF-31013
• Meets CE EN 166(F)
• Includes soft storage case
• Compatible with Rx insert frame (Item # PO8052-not included) Can be filled by any optometrist.
Features:
• Aerodynamic frame
• Extended Orbital Design for excellent peripheral vision
• Metallic Black Frame
• Neoprene ear socks
• Shatterproof Selenite™ polycarbonate lenses
• Lenses adjust from clear to dark, depending on light conditions
• Exceed ANSI Z87.1-2003 Eye and Face Protection Device Standard
• 100% UVA, B, C protection
• Removable Facial CavityTM Seal
• Soft Case
• Cleaning Cloth
• Temple Strap
• Leash Cord
• Imported
• Wt: 4 oz.
Problems with this page? Contact the ArmyProperty Team
Copyright © 2005-2013 ArmyProperty.com / Inventory Management Solutions, LLC.
A Service-Disabled Veteran-Owned (SDVO) Business
101 North Main Street, Suite 130; Ann Arbor, MI 48104
2011 Crystal Drive, Suite 400; Arlington, VA 22202
DUNS Number: 829504880 / CAGE Code: 5BMR7
(703) 269-0013