MOLLE Saw Gunner Set, NSN 8465-01-524-7362 (ACU Pattern)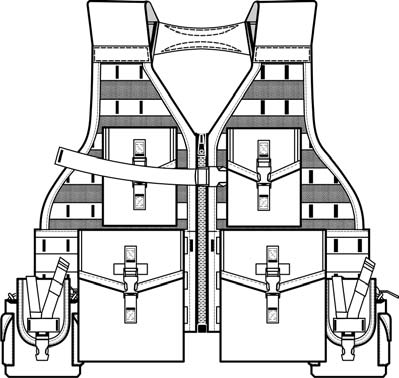 Note: The "SAW Gunner Configuration" shown above includes a Fighting Load Carrier (FLC) Vest, 8465-01-525-0577, and 2ea 1-quart canteen / utility pouches, 8465-01-525-0585.
The FLC vest and canteen pouches are not included with the "Base" SAW Gunner set, which consists of two 200rd and two 100rd SAW pouches, for a total capacity of 600rd 5.56mm linked ammunition.
"Base" SAW Gunner Set (4ea Ammo Pouches Only; 600rd total capacity)
ADD TO CART
This SAW Gunner Set is the current issue RFI MOLLE system for the US Army. Attaches to all MOLLE compatible systems, including OTV / Interceptor Vest, FLC Vest, RACK system, etc.
100-Round Pouch
200-Round Pouch
SAW Gunner Set (4 pouches), with FLC Vest and 2ea Canteen Pouches (

Sawgunner Configuration shown above

)
8465-01-524-7365
8465-01-524-7620
No NSN; Custom Configuration
ADD TO CART
ADD TO CART
ADD TO CART

New:

See our MOLLE System Overview for a description of other major MOLLE sub-systems and components.
NSN 8465-01-491-7534 (Desert Camo / DCU Pattern)
NSN 8465-01-532-2396 (USMC Coyote Brown)
NSN 8465-01-494-8045 (Arctic White)
Related Items ("Also See:")
Problems with this page? Contact the ArmyProperty Team
Copyright © 2005-2013 ArmyProperty.com / Inventory Management Solutions, LLC.
A Service-Disabled Veteran-Owned (SDVO) Business
101 North Main Street, Suite 130; Ann Arbor, MI 48104
2011 Crystal Drive, Suite 400; Arlington, VA 22202
DUNS Number: 829504880 / CAGE Code: 5BMR7
(703) 269-0013