MOLLE Rucksack System, NSN 8465-01-523-6276 (ACU Pattern)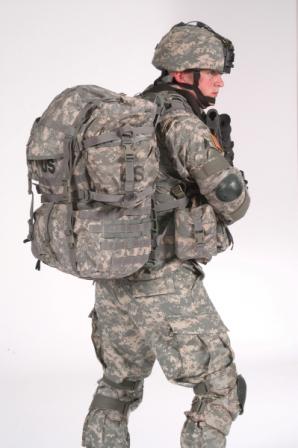 Complete MOLLE Rucksack

$347.57

*E-Tool Case is an optional Accessory that is not part of the Complete Molle Rucksack.

The MOLLE Rucksack has 5 Major Component Types,
which can be purchased individually if desired:
Items not shown to scale -- click on thumbnails for full-size pictures

Plastic Moulded Frame,

1ea

Large Rucksack (fabric body),

1ea

NSN - 8465-01-524-8368

NSN - 8465-01-524-5285

NSN - 8465-01-524-7226

$48.00ea

$158.48ea

$29.65ea
Shoulder Straps, Set,

1ea

NSN - 8465-01-524-7232

NSN - 8465-01-524-7240

NSN - 8465-01-524-8407

$49.95ea

$94.73ea

$39.95ea

*Optional accessory (Not included in complete set)
Contact Us for large quantities.




Typical Accessories
(follow links for more information):
Items not shown to scale -- click on thumbnails for full-size pictures
E-Tool Carrier
Improved First-Aid Kit (IFAK)
Hydration System
Assault Pack
Waist Pack ("Butt Pack")

NSN - 8465-01-524-8407

NSN - 6545-01-530-0929

NSN - 8465-01-524-8396

NSN - 8465-01-524-5250

NSN - 8465-01-524-7263

The MOLLE Large Ruck has a capacity of 4000 cubic inches. The side sustainment pouches can hold 500 cubic inches each.

The MOLLE Assault Pack and Waist Pack ("Butt Pack") are not included as components of the rucksack, but can be attached to it if desired, during extended-duration operations.

The rucksack's main body has a zippered internal load divider, and openings at the top and bottom ends, to allow a sleeping bag (or other gear) to be loaded and unloaded independently without the need for an external "sleeping bag carrier."

The top flap of the Large Ruck is a mesh pocket for small reference and information materials. It is secured with a hook and loop closure.

The Large Ruck has two large, removable Sustainment Pouches which attach to the side of the ruck using the same interlocking attachment system as the FLC pockets. These Sustainment Pouches each contain two D-rings on the sides, which allow them to be carried by a "General Purpose Sling" for alternate uses.

The Sustainment Pouches can also be added to the side of the smaller MOLLE Assault Pack to add 1000 cubic inches (2 x 500) to its capacity. All of the large pouches of the MOLLE system have D-rings on the sides to allow the item to be slung with a GP sling.
Related Items ("Also See:")
Problems with this page? Contact the ArmyProperty Team
Copyright © 2005-2013 ArmyProperty.com / Inventory Management Solutions, LLC.
A Service-Disabled Veteran-Owned (SDVO) Business
101 North Main Street, Suite 130; Ann Arbor, MI 48104
2011 Crystal Drive, Suite 400; Arlington, VA 22202
DUNS Number: 829504880 / CAGE Code: 5BMR7
(703) 269-0013