MOLLE Pistol Set, NSN 8465-01-524-7328 (ACU Pattern)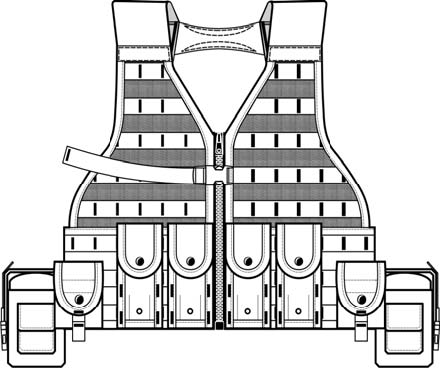 Note: The "Pistolman Configuration" shown above includes the "Base" Pistol Set, plus a Fighting Load Carrier (FLC) Vest, 8465-01-525-0577; 2ea hand grenade pouches, 8465-01-525-0589; and 2ea 1-quart canteen / utility pouches, 8465-01-525-0585.

The FLC vest and grenade / canteen pouches are not included with the "Base" Pistol Set, which consists only of the following items:
Four (4ea) 9mm single magazine pockets, NSN 8465-01-524-7361, for the Beretta M9 / 92F series or similar sized magazine. Sized to accommodate even .45 double stack magazines. Snap top flap closure.
One (1ea) tactical drop leg extender, NSN 8465-01-524-7345 (not shown above). Designed to allow the user to properly position their pistol/bayonet, double mag pouch or other MOLLE attachment for more effective access.
"Base" Pistol Set (4 each Ammo Pouches and Leg Extender Only)
This MOLLE Pistol Set is the current issue RFI MOLLE system for the US Army. Attaches to all MOLLE compatible systems, including OTV / Interceptor Vest, FLC Vest, RACK system, etc.
9mm Single Magazine Pouch only
Leg Extender only
Pistolman Set (4ea ammo pouches and 1ea leg extender), plus FLC Vest, 2ea grenade pouches, and 2ea canteen pouches (

Pistolman Configuration shown above

)
8465-01-524-7361
8465-01-524-7345
No NSN; Custom Configuration
ADD TO CART
ADD TO CART
ADD TO CART

US Military orders only.

Contact Us

for Bulk (Large Quantity) order Information.

New:

See our MOLLE System Overview for a description of other major MOLLE sub-systems and components.
Alternate colors:
NSN 8465-01-491-7543 (Desert Camo)
NSN 8465-01-532-2310 (USMC Coyote Brown)
NSN 8465-01-494-8045 (Arctic White)
NSN 8465-01-459-6584 (Woodland Camo)
Related Items ("Also See:")
Problems with this page? Contact the ArmyProperty Team
Copyright © 2005-2013 ArmyProperty.com / Inventory Management Solutions, LLC.
A Service-Disabled Veteran-Owned (SDVO) Business
101 North Main Street, Suite 130; Ann Arbor, MI 48104
2011 Crystal Drive, Suite 400; Arlington, VA 22202
DUNS Number: 829504880 / CAGE Code: 5BMR7
(703) 269-0013