MOLLE Medic Set (ACU Pattern)
NSN 8465-01-524-7632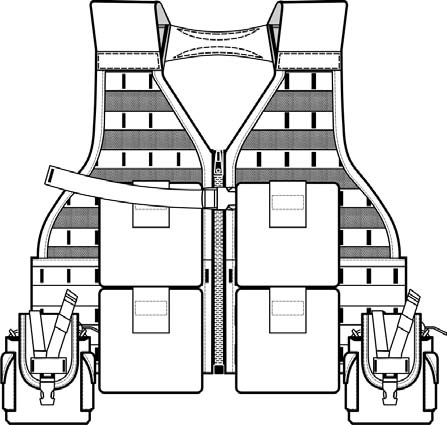 The "Medic Configuration" pictured above includes an FLC Vest with four zippered medical pouches, and two canteen / utility pouches. Medics also receive a specialized panel loading medical bag, that has an additional four removable medical pouches attached to it.
The FLC vest and canteen pouches are not included with the "Base" Medic Set, which consists only of the following items:
(1ea) Medic Pack with quick ditch shoulder straps; attached waist belt; MOLLE webbing on the right, left and bottom sides of the pack; two interior fold out panels with two mesh pouches and two Fastex attachment buckles each; NSN 8465-01-524-7635
(8ea) exterior zippered medic pouches, NSN 6532-01-524-7638;
(1ea) detachable 3-pocket IV Bandoleer with shoulder strap
"Base" Medic Set (Medic Pack, 8ea pouches, IV bandoleer)
$258.55
Zippered exterior medic pouch only,
6532-01-524-7638
Medic Set (8ea pouches, medic bag, and IV bandoleer), plus FLC Vest and 2ea canteen pouches (

"Medic Configuration" shown above

)
$17.85ea
$347.80ea
US Military orders only.
Contact Us
for Bulk (Large Quantity) Purchasing Information.
New:

See our MOLLE System Overview for a description of other major MOLLE sub-systems and components.
Also: Woodland Camouflage version, NSN 8465-01-459-6585
Related Items ("Also See:")
Problems with this page? Contact the ArmyProperty Team
Copyright © 2005-2013 ArmyProperty.com / Inventory Management Solutions, LLC.
A Service-Disabled Veteran-Owned (SDVO) Business
101 North Main Street, Suite 130; Ann Arbor, MI 48104
2011 Crystal Drive, Suite 400; Arlington, VA 22202
DUNS Number: 829504880 / CAGE Code: 5BMR7
(703) 269-0013