NSN's for Camelbak Impact CT Gloves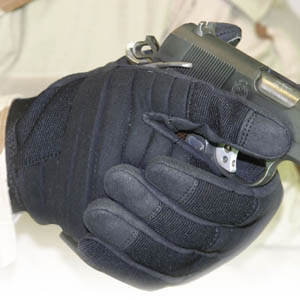 Description:
"One of the best-selling gloves from CamelBak®, they are lightweight, breathable and are ideal for all climate types. These gloves are formfitting with ergonomic anti-vibration padding and offer maximum finger dexterity. The perfect pair of gloves if you're used to handling weapons, impact tools or operating heavy equipment.

Features:
Supple, breathable, durable Clarino® palm provides firm grip
Padded palm protects from impact and vibration
Tacky index finger and thumb for extra grip
Two-way stretch, spandex-padded top with conductive anti-static fiber provides snug fit
Neoprene padded knuckles add extra flexibility
Protects from abuse such as heat, cold, abrasion and impact
Machine washable
Black color"
Also see these related items

Features

Combat Assault Glove

Meets Military Flame Resistance Requirements
Custon Designed to match US Military Uniforms
Treated Goatskin Leather for Durability
Injection Molded Knuckle Protector
100% Kevlar weave throughout
Flame and abrasion resistant
Leather reinforced in high-wear areas
Thermal and cut resistent
FR COMBAT GLOVE AUTHORIZED PRODUCT LIST APPROVED

Special Operations Light Assult Glove


A HellStorm original design
Ideal for high-speed tactical operations
Excellent tactility and dexterity for weapon or tool operation
Quick-drying and durable advanced synthetic composite construction
Dual back-of-hand and wrist adjustments for wrist support and secure custom fit
Quad Stitching allows customized removal of the index finger for trigger or keypad operation
(Also see our main Glove / Mitten NSN page)
ACU Items:
ACU Standard Uniform Coat and Trousers; Rigger's Belt, Sand Color
ACU Insignia (Rank, Qual Badges, Nametapes, US Flag, etc)
ACU Unit Patches
ACU Undershirt, Silk Weight Underwear, and Army Combat Shirt
ACU Wet / Cold Weather Gear (Poncho, Rainsuit, Gore-Tex, etc)
ACU Headgear (Patrol Cap, Boonie Cap, ACH Cover, Balaclava, etc)
ACU Gloves and Mittens
ACU Knee and Elbow Pads
ACU MOLLE Equipment Items
ACU Aircrew Uniforms, Mechanics' Coveralls, and CVC Coveralls
ACU Air Warrior System Items
ACU JSLIST and Chemical Protective Coveralls
ACU Maternity Uniforms
Problems with this page? Contact the ArmyProperty Team
Copyright © 2005-2013 ArmyProperty.com / Inventory Management Solutions, LLC.
A Service-Disabled Veteran-Owned (SDVO) Business
101 North Main Street, Suite 130; Ann Arbor, MI 48104
2011 Crystal Drive, Suite 400; Arlington, VA 22202
DUNS Number: 829504880 / CAGE Code: 5BMR7
(703) 269-0013