Leatherman Crunch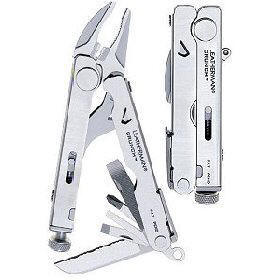 Available Now
| | | | |
| --- | --- | --- | --- |
| NSN | Make | Model | Description |
| | Leatherman | Crunch | With black nylon pouch |
Features
Crunch pocket multi-tool made for demanding professionals and do-it-yourselfers
All interior blades lock for optimal safety and power
Features locking pliers that spread wide enough to clamp 1-inch pipe
Includes serrated knife, file, Phillips screwdriver, 3 slotted screwdrivers, bottle opener, wire cutters, hard-wire cutters, ruler, lanyard attachment, wire stripper, and hex bit driver
Leatherman's 25-year limited warranty
Made for the most demanding professionals and do-it-yourselfers, Leatherman's Crunch multi-purpose tool features locking pliers that spread wide enough to clamp a 1-inch pipe, but it folds up into a tidy 4-inch, 6-ounce package for convenient storage in a pocket or bag. Remove the adjusting screw and you'll find a 1/4-inch hex-bit adapter built right in. The pliers lock into position like vise grips, leaving both hands free for other work, and all the interior blades lock too, for optimal safety and power.
Key User Features
To open the interior blades, all you have to do is partially open the handles and use the nail nick to rotate the selected blade out and into the ready position. Extend the blades fully to engage the locks, and to release a locked blade, simply push the lock release button located on the outside of the handle.
The regular and hard-wire cutters are located in the plier jaws. The hard-wire cutter is the small notch at the base of the wire cutting area. The regular wire cutters are ideal for softer wire grades, and the hard-wire cutters are great for sturdier materials like fish hooks.
The Crunch is made from 100-percent high-grade stainless steel, and it can be cleaned, dried, and re-oiled periodically -- which is recommended, especially after it's used in a damp environment.
Related Items:
Problems with this page? Contact the ArmyProperty Team
Copyright © 2005-2013 ArmyProperty.com / Inventory Management Solutions, LLC.
A Service-Disabled Veteran-Owned (SDVO) Business
101 North Main Street, Suite 130; Ann Arbor, MI 48104
2011 Crystal Drive, Suite 400; Arlington, VA 22202
DUNS Number: 829504880 / CAGE Code: 5BMR7
(703) 269-0013