NSN 5210-00-221-1882:
TAPE,MEASURING
(NSN 5210002211882)
FSG (Federal Supply Group):
52 (Measuring Tools)
FSC (Federal Supply Code):
5210
(measuring Tools Craftsmens)
Date NSN Established:
1963001 (January 01, 1963)
Audio PMCS Link:
N/A
Invalid emails will appear to work, but in reality we will NOT receive them. Please make sure you type it correctly.
Related NSNs: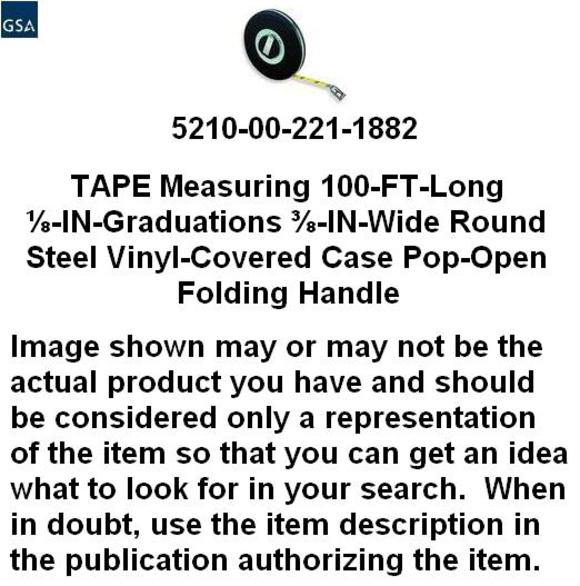 Login or signup to view full detail for this item.
This NSN is a Subcomponent of:
FLIS / FedLog Information:
FLIS Nomenclature:
TAPE,MEASURING
Login
or
signup
to view FLIS detail for this item.
Identification:
Reference / Part Number
Management
Problems with this page? Contact the ArmyProperty Team.

Copyright © 2005-2012 ArmyProperty.com / Inventory Management Solutions, LLC.
A Service-Disabled Veteran-Owned (SDVO) Business
505 E. Huron Street, Suite 202; Ann Arbor, MI 48104
2011 Crystal Drive, Suite 400; Arlington, VA 22202
DUNS Number: 829504880 / CAGE Code: 5BMR7
(703) 269-0013 / (734) 585-5061
OPSEC Policy