Be Advised: There are multiple meanings of the term "IFAK," depending on your branch of service! The Army, Marines, and Air Force have very different IFAK's, with completely different sets of components.
Picture: US Army IFAK
U.S. Army IFAK

U.S. Air Force IFAK

U.S. Marine Corps IFAK

**Improved** First-Aid Kit
**Individual** First-Aid Kit
**Individual** First-Aid Kit
NSN 6545-01-530-0929
NSN 6545-01-528-6546
NSN 6545-01-539-2732*

$97.24 each

$148.44 each

$106.36 each

ADD TO CART
ADD TO CART
ADD TO CART
*NOTE: USMC IFAK is sometimes referred to using an alternate NSN,

6545-07-000-0762.

See below for information on USMC IFAK Components, which have recently changed.
Also see the following related items:
-- Improved (2005 / 2009) Combat Lifesaver Bag
-- Warrior Aid and Litter Kit (WALK)
1. US ARMY IFAK
USAMMA Message regarding US Army IFAK fielding:
"Product Description: The IFAK will be issued to every Soldier via the Soldier as a System (SaaS) Rapid Fielding Initiative (RFI). Weighing one pound, the IFAK will consist of expendable medical items packaged inside of a modified MOLLE 100 roundSAW ammo pouch.
Benefit Against the Threat: The IFAK increases individual Soldier capabilities to provide Self- Aid / Buddy-Aid and provides interventions for two leading causes of death on the battlefield, severe hemorrhage and inadequate airway. These capabilities increase Soldier survivability during dispersed operations and the expandable pouch allows for METT-C specific "add-ins".
Fielding and Ordering Guidance: The IFAK is included as a component of the RFI fielding schedule and will address all deployed and deploying units. The IFAK is AAC "L" (local purchase) and units are able to purchase additional IFAKs via standard Class VIII methods. NSN: 6545-01-530-0929."
US ARMY IFAK CONTENTS:
2. US Air Force IFAK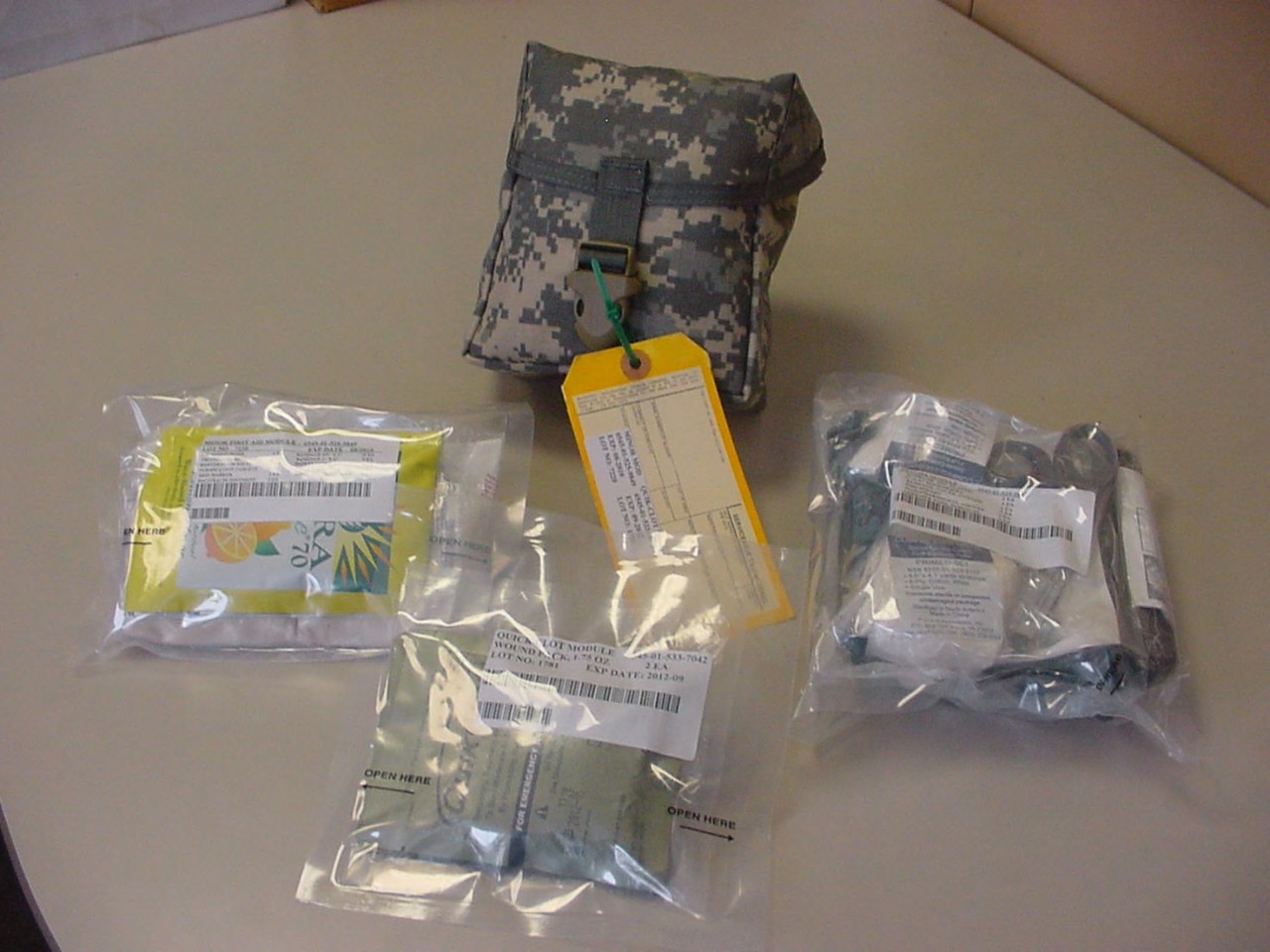 * Restricted Availability. MUST be delivered to a U.S. Military Installation ONLY. *
USAF IFAK Contents:
2.1
Pouch, Air Force IFAK, Army Universal Camo (ACU Pattern) (NOT USAF ABU "Tiger Stripe" Pattern), 6545-01-538-2071, 1ea
2.2
TRAUMA Module (has subcomponents), 6545-01-525-9847, 1ea
2.2.A Israeli Bandage, #FCP-02P, 6510-01-492-2275, 2ea
2.2.B Pri-Med Bandage, Gauze, Cotton, 4.5"x4.1" Yds., 6510-01-503-2117, 2ea
2.2.C EMS Shears 5 ½", Black, P/N 48030MB, 6515-01-515-5470, 1ea
2.2.D Nasopharyngeal Airway, 6515-01-129-5437, 1ea
2.2.E Adhesive Tape, Surgical, 1"x 10 yds, 6510-00-926-8882, 1ea
2.2.F Zip Lock Poly Bag 9" x 12", 1ea
2.2.G Label, 2" x 4", 1ea
2.2.H Vac Seal Clear Barrier Bag notched 10 ¼" x 12 ½", 1ea
3. US Marine Corps IFAK
Carl Weathers USMC IFAK Training Video:
Picture: USMC IFAK
USMC Individual First Aid Kit (IFAK) CONTENTS:
This is the configuration of the IFAK that has been shipping for about a half-decade. However, a newer and much more-expensive USMC IFAK configuration is available (if requested), which replaces the 2ea H-bandages with 2ea CAT Tourniquets. It also adds Quikclot Combat Gauze. If you would like to purchase this newer configuration, please contact us at (703) 269-0013 for pricing and availability.
(1ea) Pouch, NSN 8105-09-000-2725
IFAK A1 Component Individual First Aid Kit - NSN 6545-01-539-2740 (includes the following items):
(1ea) 3.5 oz. Quikclot Packet - NSN 6510-01-499-9285 NOTE: As of 31 AUG 2011, the USMC IFAK is no longer shipping with Quikclot powder.
(2ea) TK4 Tourni-Kwik Self-Application Tourniquet 40" - NSN 6515-01-542-7696
(2ea) "H" Compression Bandage w/8" x 10" Ab Pad - NSN 6510-01-540-6484
(2ea) Primed Compressed Gauze 4.5" x 4.1 yards - NSN 6510-01-503-2117

IFAK A1 Minor First Aid Kit Component NSN 6545-09-000-2727 (includes the following items):
(5ea) Adhesive Bandage 2" x 4 1/2" - NSN 6510-01-514-4518
(10ea) Adhesive Bandages, 3/4" x 3" - NSN 6510-00-913-7909
(2ea) Triangular Bandages, 40"x40"x56" Non-sterile - NSN 6510-00-201-1755
(1ea) Combat Reinforcement Tap 2" x 100" - NSN 6510-01-549-0927
(1ea) Burn Dressing 4" x 16", Water-Jel - NSN 6510-01-243-5894
(8ea) Bacitracin Antibiotic Oinment 0.9 gram
(1ea) Povidone-Iodine Topical Solution USP 10% 1/2 floz. - NSN 6505-00-914-3593
(1ea) Water Purification Tablets 10 Pack, Katadyn Micropur, Sodium Chlorite - NSN 6850-00-985-7166
Problems with this page? Contact the ArmyProperty Team
Copyright © 2005-2013 ArmyProperty.com / Inventory Management Solutions, LLC.
A Service-Disabled Veteran-Owned (SDVO) Business
101 North Main Street, Suite 130; Ann Arbor, MI 48104
2011 Crystal Drive, Suite 400; Arlington, VA 22202
DUNS Number: 829504880 / CAGE Code: 5BMR7
(703) 269-0013