Shop Equipment Contact Maintenance (SECM)
The Shop Equipment Contact Maintenance (SECM) is a service station on wheels. If it can be repaired in two hours or less, the SECM has the tools and equipment to do it. It's equipped with a full complement of hand and pneumatic tools, an air compressor, a welder, a cutting torch, lights, and more. Five kilowatts of electrical power is supplied by the HMMWV's (High Mobility Multi-purpose Wheeled Vehicle) generator through a power inverter.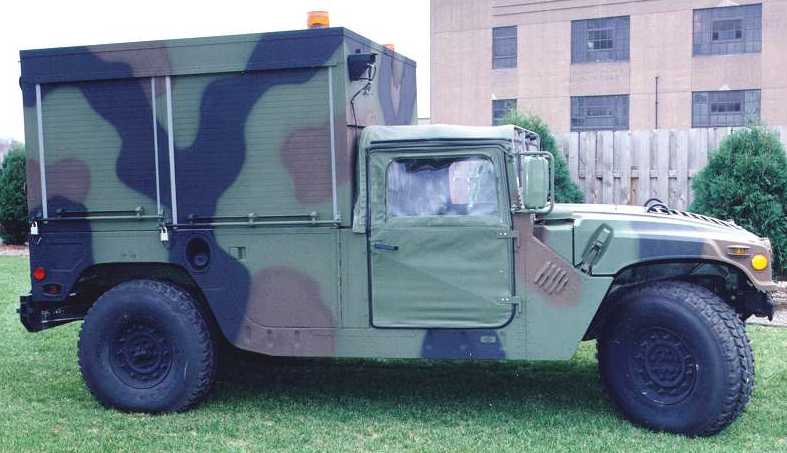 The doors roll up out of the way, allowing access to the storage cabinets. The storage cabinets have drawers with high-density polyethylene inserts with cutouts for each tool, ensuring needed tools are quickly found and easily inventoried and less likely to be lost or left behind. See the table below for a list of other similar truck-mounted tool sets.
| | | | | | |
| --- | --- | --- | --- | --- | --- |
| LIN | NSN | NOMENCLATURE | PRICE | REMARKS | BOIP |
| S25681 | 4940-01-333-8471 | SHOP EQUIPMENT: CONTACT MAINTENANCE ORD/ENG TRUCK MOUNTING | $ 72,357 | Replaces LIN S30914 and S30982 and requires an ASIOE Truck Utility, Expanded Capacity, M1113, HMMWV (LIN T61630). | O042AA |
| S30224 | 4940-01-442-2734 | SH EQUIP CONTACT MAINT: (SECM) | $105,000 | Replaces selected LIN T61494 with an ASIOE Truck Utility, Heavy Variant, M1097, HMMWV (LIN T07679) in AVIM and AVUM units. | H142AA |
| S30914 | 4940-01-209-8824 | SHOP SET CONTACT MAINTENANCE TRUCK MOUNTED: ENG | $ 41,346 | This system is mounted on a component M1031 CUCV chassis and is replaced by (LIN S25681) which requires an ASIOE Truck Utility, Expanded Capacity, M1113, HMMWV (LIN T61630). | K046AA |
| S30982 | 4940-01-209-8825 | SHOP SET CONTACT MAINTENANCE TRUCK MOUNTED: ORD | $ 29,811 | This system is mounted on a component M1031 CUCV chassis and is replaced by (LIN S25681) which requires an ASIOE Truck Utility, Expanded Capacity, M1113, HMMWV (LIN T61630). | K047AA |
| S31232 | 2320-01-209-8823 | SHOP EQUIPMENT GENERAL PURPOSE: TRUCK MOUNTED EOD | $ 21,802 | This system is mounted on a component M1031 CUCV chassis and is replaced by (LIN S25681) which requires an ASIOE Truck Utility, Expanded Capacity, M1113, HMMWV (LIN T61630). | T030AA |
(Information taken from the Picatinny Arsenal website's SECM Page.)
Problems with this page? Contact the ArmyProperty Team
Copyright © 2005-2013 ArmyProperty.com / Inventory Management Solutions, LLC.
A Service-Disabled Veteran-Owned (SDVO) Business
101 North Main Street, Suite 130; Ann Arbor, MI 48104
2011 Crystal Drive, Suite 400; Arlington, VA 22202
DUNS Number: 829504880 / CAGE Code: 5BMR7
(703) 269-0013