Quick Erect Antenna Mast System (QEAM)
NSN 5985-01-381-6341, Model AB-1386/8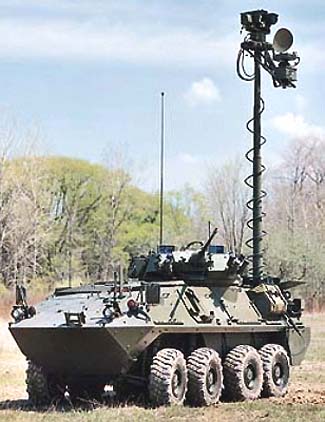 The QEAM is a mobile quick erect antenna mast used for elevating tactical communications antennas to a maximum height of 33 ft (10M) which results in more reliable communications over extended ranges.
The QEAM replaces the OE-254, which is vastly more difficult to raise and lower due to its large volume of mast sections and other parts which are easily lost.
The QEAM mast can mount antenna receivers (feed cones, etc) such as the AS-3166 (P/O OE-254), MP-68 (P/O RC-292), AS-4292 (P/O MSE) and A3005068 (P/O EPLRS). The mast can be deployed and operated in ground and vehicular (wheeled and tracked) mounted configurations. The mast can be erected in 7 ½ minutes with two persons and in 15 minutes with one person.
A funded requisition for NSN 5985-01-381-6341 will provide the quick erect antenna mast with ground mounting accessories. For vehicle mounting applications (the preferred mode), see below for appropriate NSN's.
For more information, check out the QEAM information page (PDF), or go to the Will-Burt website. ArmyProperty.com has also rounded up some Preventive Maintenance and Safety information from PS magazine.
Related End Items
NSN
Description
(Various)
ASIP / SINCGARS FM Commo System
Various
Power inverters: Electronic devices which convert military vehicles' 24-volt DC power into 120-volt household AC power, in order to run computers, tools, and other equipment.
5820-01-433-1109
Harris HF/VHF "Falcon II" Radio (RT-1694) (PRC-138 PRC-138 manpack transceiver, and vehicular version (RF-5200V-150A, also called Harris 150.)
5820-01-444-1219
Receiver-Transmitter RT-1523E(C)/U (ASIP Radio). LIN R30343. Replaced the older, larger SINCGARS radio. This is a "component" of every PRC/VRC radio set, but is carried on unit property books as a separate end item.

Typical Accessories (non major end items)

NSN
Description
5975-01-390-5770
QEAM HMMWV Mounting Kit, MT-6967/G
5975-01-390-9612
QEAM Track Vehicle Mounting Kit (for M113 / M577 series), MT-6968/G
5985-01-451-2963
Transport Case (canvas carrying case)
5985-01-074-6684
AS-3166 feed cone assembly (terminal component of OE-254; six antenna elements screw into it). Required in order to use the QEAM for FM communications.

Commonly Needed Repair Parts

NSN
Description
5340-01-424-1503
Hand crank that drives the drive screw; this item is easily mislaid and lost.
5985-01-254-9557
Drive winch; used to raise / lower the mast; can sometimes fail due to dirt and dust infiltration.
3010-01-421-6827
Gearbox; can also fail due to dirt and dust
5210-01-424-7408
Level Indicator on gearbox
5985-01-423-8576
Antenna to antenna-base adapter
5985-01-072-4342
Support sleeve (typically required when changing antenna-antenna base adapter
5315-00-628-3806
Quick-release pin
4010-01-421-0428
Lanyard for quick-release pin
5985-01-424-7413
Tripod antenna; can be damaged by a broken quick-release pin
Item Manager POC: AMSEL-LC-COM-C, DSN 987-4097, Comm 732-427-4097.
Problems with this page? Contact the ArmyProperty Team
Copyright © 2005-2013 ArmyProperty.com / Inventory Management Solutions, LLC.
A Service-Disabled Veteran-Owned (SDVO) Business
101 North Main Street, Suite 130; Ann Arbor, MI 48104
2011 Crystal Drive, Suite 400; Arlington, VA 22202
DUNS Number: 829504880 / CAGE Code: 5BMR7
(703) 269-0013